Graduate Spotlight: Paul Waller – Master Builder – Fender Custom Shop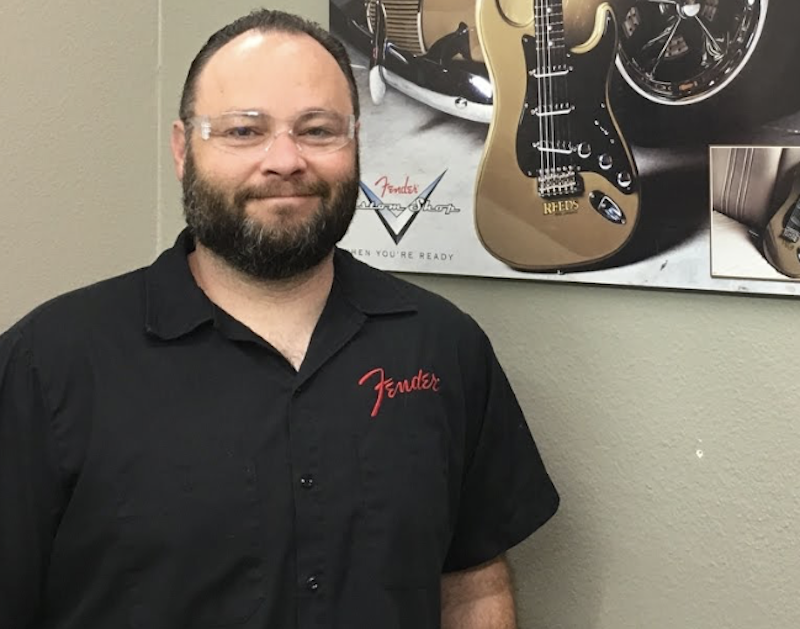 A few years ago, I visited Fender Musical Instruments in Corona, CA to do an on-camera interview with Paul Waller. Paul graduated from Roberto-Venn School of Luthiery in 2000. He joined Fender in 2003. He spent two years working closely with master arch-top craftsman Bob Benedetto, and became steeped in the many facets of building techniques from all the Custom Shop's Master Builders. After an extensive seven-year apprenticeship, Waller became a Master Builder in 2010.
Paul is an affable guy with a lot of love and respect for his craft. It's clear that he doesn't take his work or his position at Fender for granted. Paul gave me a private tour of Fender's fantastic facilities, and I've got to say, it's really cool to see a Fender Custom Shop Master Builder still get excited over an old drill press from the 60's.
While walking around Fender looking at a mixture of new technology and classic machinery, being run by a group of top-notch employees, Paul explained to me how they use a combination of CNC technology and hands-on woodworking skills to build the Custom Shop and Master Built guitars. From my perspective, it was apparent that Fender functions as a well-maintained mechanism with many moving parts. Fueled by an innovative history in musical instrument building, Fender still possesses the human element that ties this massive business together with real heart and ingenuity.
I hope you like this video that I put together on Paul Waller at the Fender Custom Shop. In turn, I hope that it reminds you of the connection a lot of us in the guitar universe have to the amazing instruments we build, repair, own, play, and dream of having one day. There are a lot of cool guitars and other stringed things out there, but what I like about Fender is that many of my favorite musicians have played their instruments over the years, and many of my favorite luthiers have based their designs off of Fender concepts. That's a real tribute to this institution's legacy.
Thanks, John "Juano" Lippi
For over 40 years we have been teaching students what they need to enter the world of professional guitar making and repair.
Roberto-Venn Alumni – Help us, your classmates and future grads by filling out our Alumni Questionnaire
Recently we've shared these employment opportunities through our Graduate Bulletin, on our Alumni Job Opportunities Page, and on our Facebook Page:
If you have a job opening and want us to share it through our network visit our Employer Job Opportunities Page, share your info and we'll help you spread the word. Connecting qualified graduates with good employers helps us all. Look to Roberto-Venn School of Luthiery to help build your workforce.
Browse Our Website For More Information And Register Today!
STUDENT AID & VETERAN'S BENEFITS ARE AVAILABLE  Call: 800-507-3738 or APPLY HERE
Thanks,
https://roberto-venn.com/wp-content/uploads/2021/09/Roberto-Venn_Alumni-Paul-Waller-Fender-3.png
629
800
John Lippi
John Lippi
2021-10-26 15:11:54
2021-10-27 11:22:28
Graduate Spotlight: Paul Waller – Master Builder – Fender Custom Shop