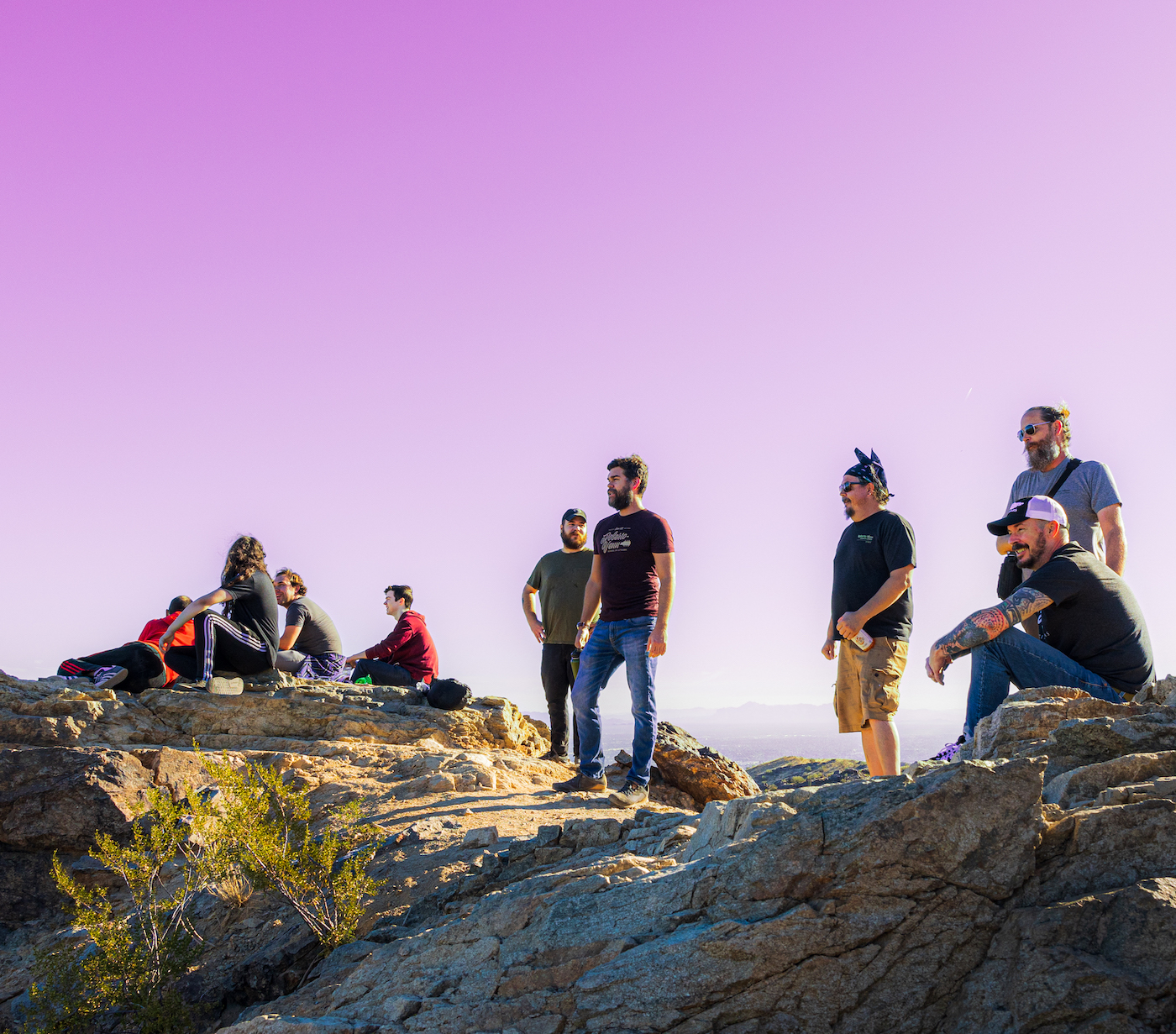 Our Fall 2021 Guitar Making & Repair Classes Continue
Our Fall 2020 students are wrapping up their builds and getting them into the spray booth. The finishing process is fairly deep and time consuming, especially for a beginner. Once they've got the adequate amount of lacquer on them, and they're flat, the instruments cure for at least two weeks before wet sanding and buffing come into play. This is an exciting time as we get to see all of their hard work begin to shine. R-V student guitars are handmade and built from seasoned tone-woods over the course of 20 weeks. For more information check out the Guitar Making & Repair Course – details page.
A Breath Of Fresh Air
Shortly before Thanksgiving we revived an old Roberto-Venn tradition by hiking up South Mountain. We met at the trailhead at 8:30am and hiked up the North side of South Mountain, breathing in the cool morning air and resting at the summit with the Phoenix Valley at our feet. We welcomed a special guest, Steve Nall, director of manufacturing at Collings Guitars who last made the hike in 1999 as a student! It was quite a refreshing and invigorating excursion which reminded us all that life isn't always just about making sawdust… Connect to the moment you're in. Photos by R-V instructor Steven Davis.
FOR OVER 40 YEARS WE HAVE BEEN TEACHING STUDENTS WHAT THEY NEED TO ENTER THE WORLD OF
PROFESSIONAL GUITAR MAKING AND REPAIR.
Roberto-Venn Alumni – Help us, your classmates and future grads by filling out our Alumni Questionnaire
R-V Alumni Job Opportunities
Recently we've shared these employment opportunities through our Graduate Bulletin, on our Alumni Job Opportunities Page, and on our Facebook Page:
If you have a job opening and want us to share it through our network visit our Employer Job Opportunities Page, share your info and we'll help you spread the word. Connecting qualified graduates with good employers helps us all. Look to Roberto-Venn School of Luthiery to help build your workforce.
BROWSE OUR WEBSITE FOR MORE INFORMATION AND REGISTER TODAY!
STUDENT AID & VETERAN'S BENEFITS ARE AVAILABLE  Call: 800-507-3738 or APPLY HERE
Thanks,
https://roberto-venn.com/wp-content/uploads/2021/11/Roberto-Venn_Steven-David-Photography-Fall-2021.jpg
1231
1400
John Lippi
John Lippi
2021-11-30 11:16:52
2021-11-30 13:00:18
Fall 2021 Moving Forward