Our Spring 2021 Classes Move Forward…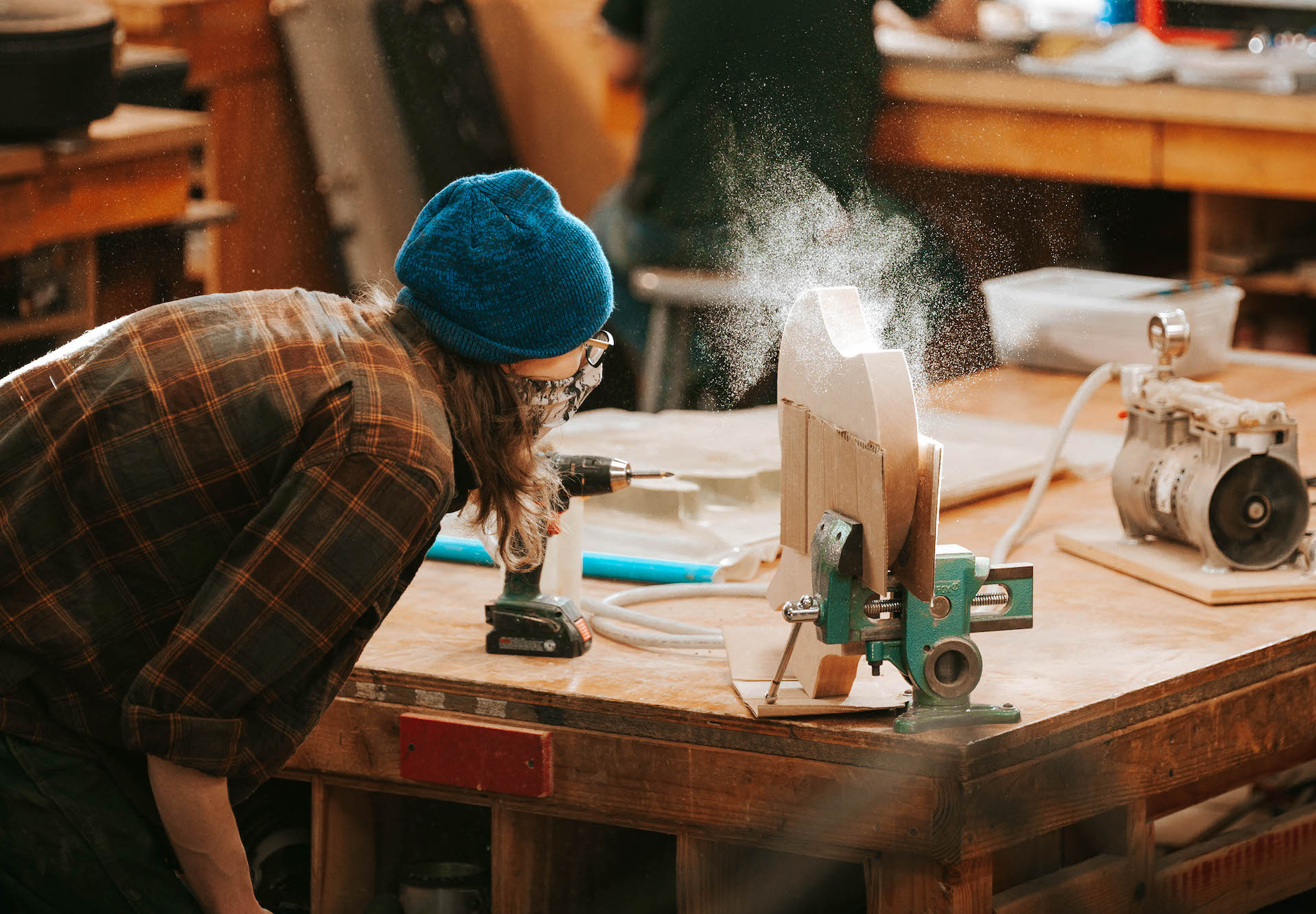 If You Build It, They Will Strum!
Our Spring 2021 Guitar Making & Repair class will graduate on Friday June 25th at 1pm. Soon after, our Advanced Building and Repair classes will also move forward. What a great group of students, we certainly wish them the best, and we are always available for continued support.
R-V students make at least one electric and one acoustic guitar during the 20-week Guitar Making & Repair Course,  and more if they continue on with our advanced opportunities. We will post photos of our Spring 2021 Class instruments in the Student-Made Guitar Gallery soon, but for now, here are some examples of their excellent work:
For over 40 years we have been teaching students what they need to enter the world of professional guitar making and repair. Roberto-Venn Alumni – Help us, your classmates and future grads by filling out our Alumni Questionnaire
R-V Alumni Job Opportunities:
Recently we've shared these employment opportunities through our Graduate Bulletin, on our Alumni Job Opportunities Page, and on our Facebook Page:
Moser Guitars – Prescott Valley, AZ
Guitar Center – Nationwide
Gibson Brands, Inc. – Nashville, TN
Third Coast Guitar – Chicago, IL
Heid Music – Madison, WI
Bourgeois Guitars – Lewiston, ME
Paul Reed Smith Guitars – Stevensville, MD
Silesia Guitars – Seattle, WA
Ripcord Guitars – Fountain Hills, AZ
Fret Mill Music Co. – Roanoke, VA
James Hood Guitar Repair – Oceanside, CA
Sonoma County Guitarworks, Sonoma County, CA
Fender Musical Instruments – Corona, CA
Instrumental Music Center – Tucson, AZ
Palmer Music Company – Conway, AR
Beard Guitars – Hagerstown, MD
Porter Barn Wood – Phoenix, AZ
If you have a job opening and want us to share it through our network visit our Employer Job Opportunities Page, share your info and we'll help you spread the word. Connecting qualified graduates with good employers helps us all. Look to Roberto-Venn School of Luthiery to help build your workforce.
Browse Our Website For More Information And Register Today!
STUDENT AID & VETERAN'S BENEFITS ARE AVAILABLE
Call 800-507-3738 or APPLY HERE
Thanks,
https://roberto-venn.com/wp-content/uploads/2021/06/Roberto-Venn_News-Photo.jpg
1334
1920
John Lippi
John Lippi
2021-06-23 14:17:54
2021-06-24 14:55:05
Our Spring 2021 Classes Move Forward…