Baldacci Guitars, Shop Life and Recent Visitors!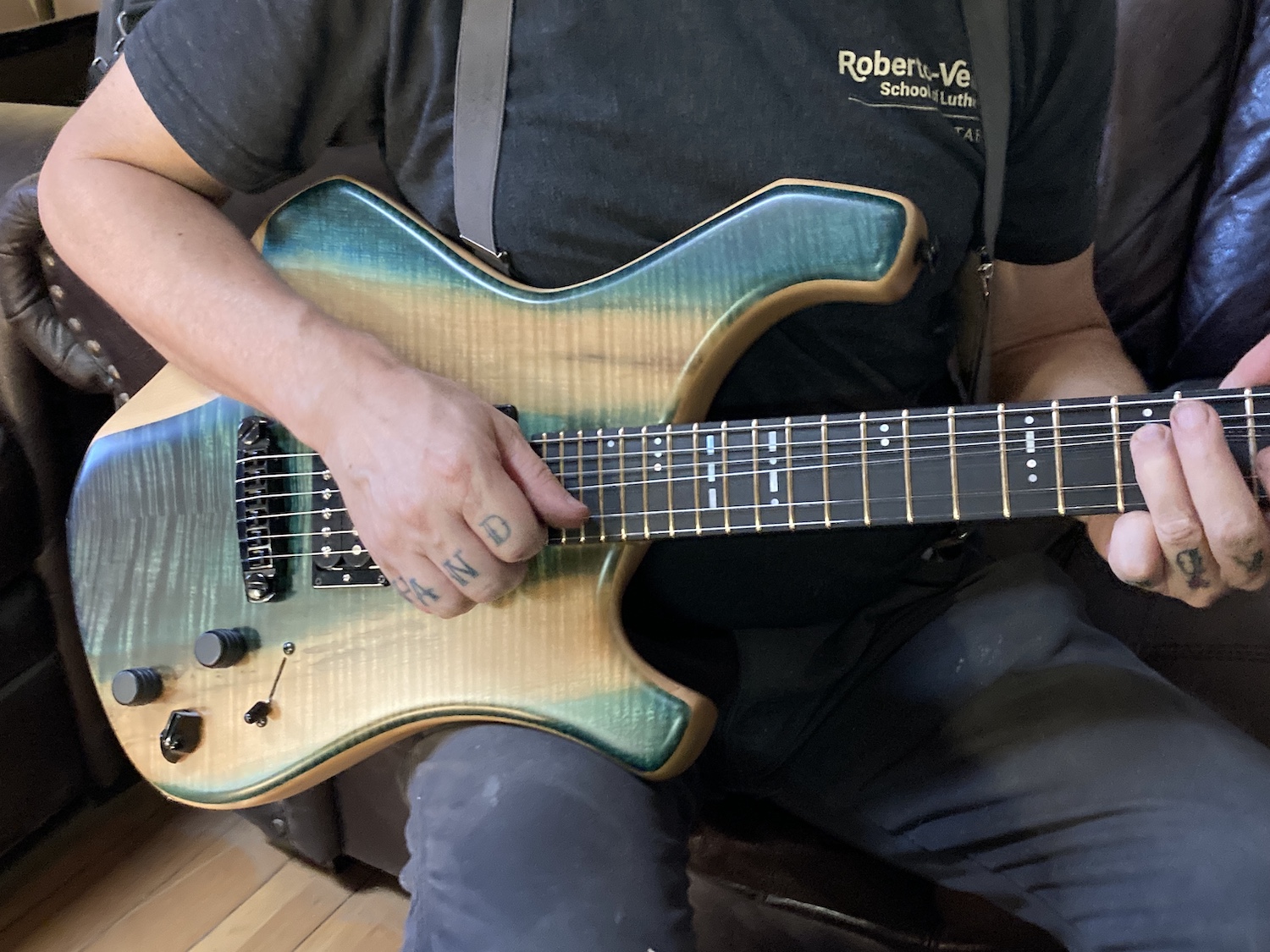 Baldacci Guitars – Mesa, AZ
Conner Baldacci (R-V Fall Class 2016) stopped by Roberto-Venn to do a video interview with our Media Director John Lippi. They talked about Baldacci Guitars flagship model, the Big Horn series, their custom Dark Moon pickups and more. Check that out here:
Roberto-Venn Alumni – Help us, your classmates and future grads by filling out our Alumni Questionnaire
Shop Life
Our Spring Class of 2021 has turned in their electric guitars for grading and the acoustics are finishing up soon. We've got a great mix of traditional and modern designs happening, and these folks are really doing great work! Here are just a few examples of the electrics, but you can check out what's happening on a daily basis by visiting our Instagram and Facebook pages. We will eventually post all of the electric and acoustic guitars, from our Spring 2021 Class, in our Student Galleries. Photos by R-V instructor Steven Davis.
A Special "Shout Out" to our very own John Reuter (R-V's Director of Training) on the completion of a brand new Garcia Wolf Guitar. He's got several more guitars in progress, and it's good to see him building these electrics again!
Recent Visitors to R-V:
John Eaton – Owner of Woodsong's Lutherie in Boulder, Co. and brother to William Eaton our School Director.
Jason Kostal – Kostal Guitars (R-V Spring Class 2006).
John Thomas – Author of "Kalamazoo Gals" and field editor editor and frequent contributor to Fretboard Journal.
Antoine Gedroyc – Photographer and Guitar Aficionado.
Jeff Hoffee – Hoffee Carbon Fiber Cases.
Employment Opportunities
Recently we've shared employment opportunities through our graduate bulletin and on our Facebook page for these companies:
– Paul Reed Smith Guitars – Maryland
– Mule Resophonic Guitars – Michigan
– Bourgeois Guitars – Maine 
– ESP Guitars – California 
– Fender – California & Arizona
– Gibson Guitars – Tennessee & Montana
– Andrew's Fine Violins – Arizona
– Guitar Center – Nationwide
If you have a job opening and want us to share it through our network visit our Employer Job Opportunities Page, share your info and we'll help you spread the word. Connecting qualified graduates with good employers helps us all. Look to us to help build your workforce.
https://roberto-venn.com/wp-content/uploads/2021/06/Roberto-Venn_Student-Electric-Spring-2021.jpg
1125
1500
John Lippi
John Lippi
2021-06-03 12:28:32
2021-06-22 14:28:39
Baldacci Guitars, Shop Life and Recent Visitors!