Spring Class 2021 Begins…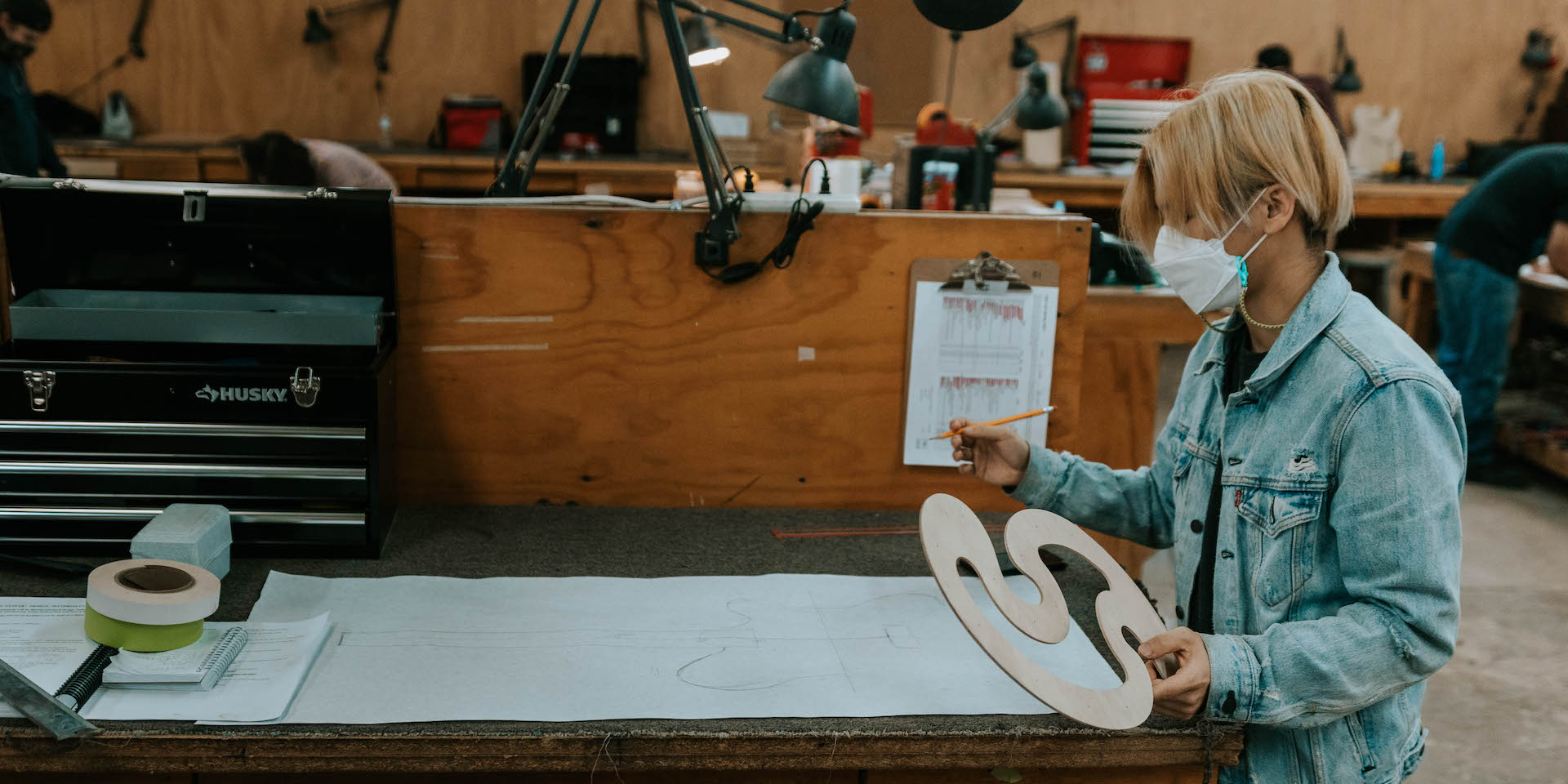 We Welcome Our New Students
The Spring Class of 2021 started up this week. As we welcome a new crop of guitar enthusiasts to our little corner of the world, we say farewell to some of our Fall 2020 students as they move forward through the universe of guitar making and repair. Actually, several of our Fall 2020 grads are continuing their education upstairs at R-V, with Robert "Mudd" Mazzullo, for the 10-week Intensive Repair Course. So, that's very cool.
Our new students hit the ground running on day one. They've already started to make the neck and tail blocks for their acoustics, picked out wood for their acoustic and electric guitars, designed their electrics, made templates from their drawings, began to fit and seam their acoustic tops an more… Plus, our school director, William Eaton, and our chief electric instructor, Steven Davis, gave a guitar design lecture. This is demanding, yet rewarding work. Snapshots of week one brought to you by Steven Davis and John Lippi:
Guitar Pedal Series – Rangemaster Video
Here's some information on Roberto-Venn's Guitar Effect Pedal Series, specifically the Rangemaster seminar. This isn't your typical pedal video; it delves into the educational process behind the build. Most folks can buy a pedal or amp kit and put it together, but here at R-V we strive to teach you how and why things work, and we do it in a safe and controlled environment with expert supervision. Jim Kramer is a knowledgeable and thoughtful instructor. We hope you enjoy the first video in this series. Watch it here.
Employment Opportunities
Recently we've shared employment opportunities through our graduate bulletin and on our Facebook page for these companies:
– Gibson Guitars – Nashville, TN
– Blackbird Guitars – San Francisco, CA.
– Midwood Guitar Studio – Charlotte, NC
– Allparts Music – Houston, TX
– Palmer Music Company – Conway, AR
– Beard Guitars – Hagerstown, MD
– Guitar Center – Scottsdale, AZ
If you have a job opening and want us to share it through our network visit our Employer Job Opportunities Page, share your info and we'll help you spread the word. Connecting qualified graduates with good employers helps us all. Look to us to help build your workforce.
Browse our website for more info on our 2021 classes and COVID-19 School Plan. Stay healthy and be safe.
Thanks – The Roberto-Venn Faculty
https://roberto-venn.com/wp-content/uploads/2021/02/Spring-2021_Stevo-2.jpg
960
1920
John Lippi
John Lippi
2021-02-11 12:13:02
2021-02-23 13:35:47
Spring Class 2021 Begins…