Spring Class 2021 – Eisenberg Instruments – Jon Rauhouse Lap Steel Demo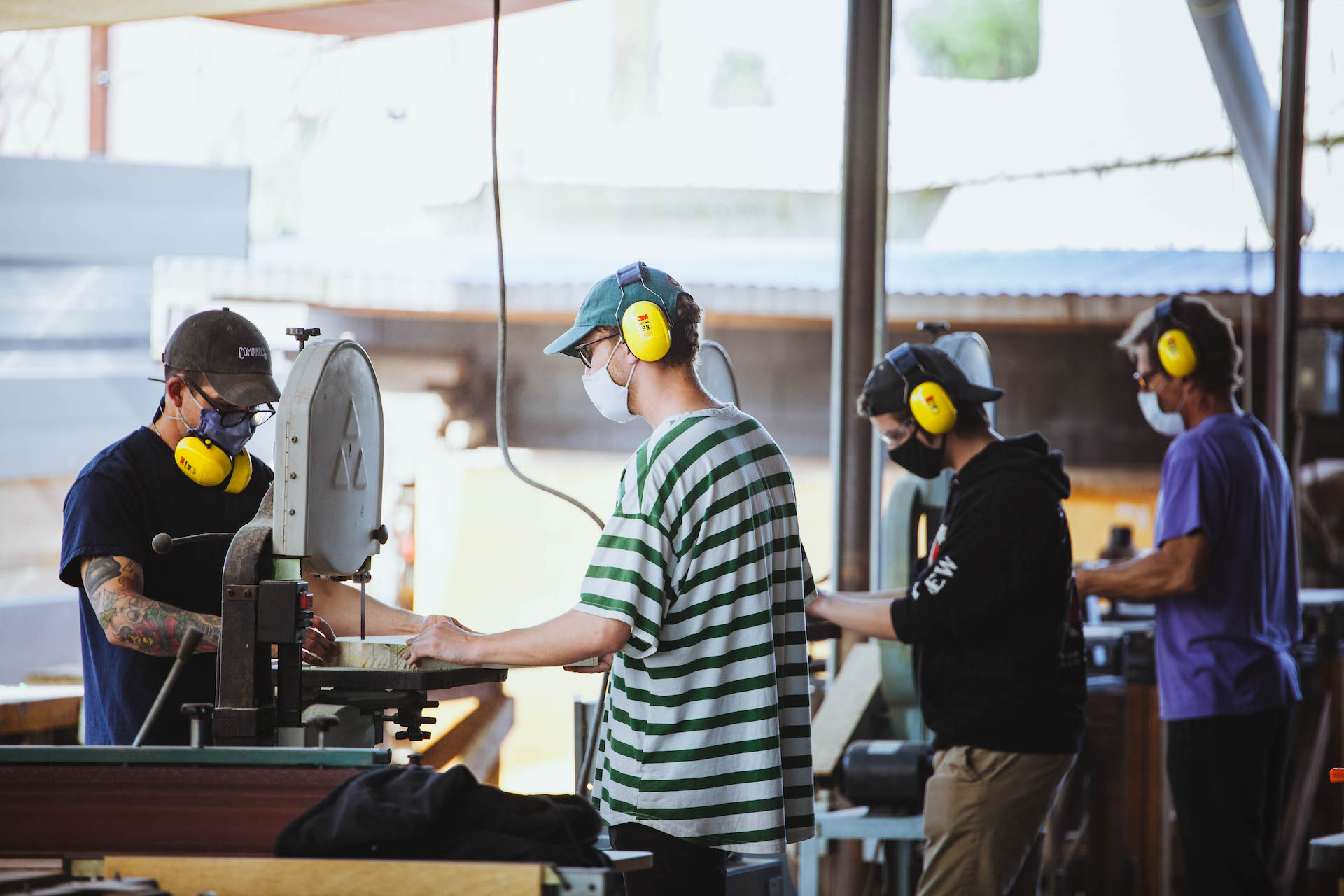 Our Spring Class 2021 Moves Forward
After a few weeks, these folks are "cruising in the demo lane"… They're bracing their acoustic tops and backs, carving back braces, installing kerfing and side strips, shaping their electric bodies and necks, gluing on fretboards and so much more. It's becoming a balancing act at this point. There's a lot to do.
To stay in tune and in time with the instructor demonstrations, our students must adhere to an efficient and consistent work ethic. Guitar Making & Repair can be demanding, especially when things go wrong. But, this is also the best place to learn how to fix those inevitable mistakes, and if you have to remake something, it usually goes much quicker the second time around. Snapshots of Luthiery life at R-V brought to you by Steven Davis and John Lippi:
Eisenberg Instruments at Roberto-Venn
Steve Eisenberg, an R-V graduate and guitar company owner/luthier, dropped in to talk Instrument Design, Marketing and Business with our students. It's great when our alumni visit. They can offer up advice and experience to our students from the perspective of being out there in the industry – https://eisenberginstruments.com
Jon Rauhouse Lap Steel Demonstration
We're always delighted when Jon stops in to show our students the power, the magic and the beauty of lap steel guitar. Jon Rauhouse (Neko Case, Billy Bob Thorton's Boxmasters, Jakob Dylan, and many more) was recently featured in "Arizona's 40 Most Influential Musicians" listed by The Phoenix New Times
Check out this fantastic video – A Reuter Acoustic Lap Slide Guitar For Rauhouse
Employment Opportunities
Recently we've shared employment opportunities through our graduate bulletin and on our Facebook page for these companies:
– Pisgah Banjo Company – Fairview, NC
– Blackbird Guitars – San Francisco, CA
– Allparts Music – Houston, TX
– Fender – Corona, CA
– Sonoma County Guitarworks, CA
– Guitar Center – Scottsdale, AZ
If you have a job opening and want us to share it through our network visit our Employer Job Opportunities Page, share your info and we'll help you spread the word. Connecting qualified graduates with good employers helps us all. Look to us to help build your workforce.
Browse our website for more info on our 2021 classes and COVID-19 School Plan. Stay healthy and be safe.
Thanks – The Roberto-Venn Faculty
https://roberto-venn.com/wp-content/uploads/2021/03/Ramada_Stevo_S2021.jpg
1280
1920
John Lippi
John Lippi
2021-03-11 11:45:36
2021-03-12 09:44:45
Spring Class 2021 – Eisenberg Instruments – Jon Rauhouse Lap Steel Demo