Fall Class 2020 Acoustics – Alumni Visit Spring Class 2021 – Road Tech Lecture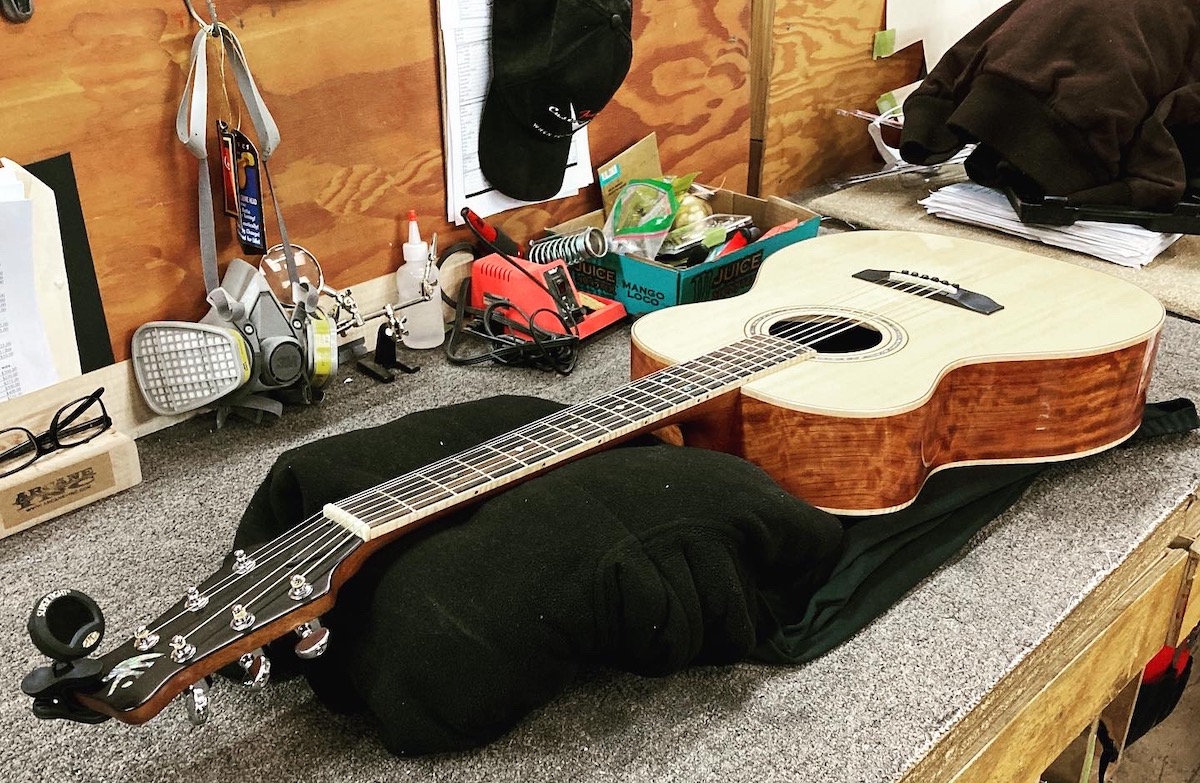 The Fall 2020 acoustic guitars are done! This is a great accomplishment, especially the first time around. Students make at least one electric and one acoustic guitar during our 20-week Guitar Making & Repair Course. We recently showed you a few of their electrics, so here are a few of the acoustics:
Alumni Visit Via Zoom
Some of our grads and advisors talked to our upcoming 2021 Spring Class. This session was hosted by our school director William Eaton and special guests included:
1. Jon Eaton & Crew – Advisor and various grads – Woodsong's Lutherie, Boulder, Co
2. Joe Contento – Spring Class 2020 – Gibson Guitars, Nashville, TN
3. Preston Moore – Fall Class 2019 – Tetelestai Guitars, Phoenix, AZ
4. Nikki Walters – Spring Class 2013 – Nikki's Guitar Shop, Mesa, AZ
5. Ryan Lynn – Spring Class 1999 – East Side Guitar Repair, Portland, OR
6. Brady Shreeve – Current student – Fall Class 2020
Click here for more information on R-V Alumni
Road Tech Lecture
Joe Vallee, longtime R-V Instructor and Guitar Tech for The Doobie Brothers, addresses the ins and outs of life on the road with an iconic band. He also talks about "sweaty van tours" and making your way up the ladder into the roadie big leagues, the logistics of working a large arena or stadium shows, and what it takes to work as a team with the various departments outside of "guitar world" while touring. Setting up and maintaining guitars is just one part of a much bigger picture. There's a lot of tech involved beyond the guitar, a lot of of long hours with protocols wrapped in scheduling… It's not a big party. It's a lot of hard work, but it can take you all over the world.
Employment Opportunities
Recently we've shared employment opportunities through our graduate bulletin and on our social media pages for these companies:
Blackbird Guitars – San Francisco, CA.
Allparts Music – Houston, TX
Guitar Center – Scottsdale, AZ
Porter Barn Wood – Phoenix, AZ
Gibson Guitars – Nashville, TN
If you've got an employment opportunity and want us to share it through our grad network and on social media visit our Employer Job Opportunities page.
Browse our website for more info on our Spring 2021 classes and COVID-19 School Plan. Stay healthy and be safe.
Thanks – The Roberto-Venn Faculty
https://roberto-venn.com/wp-content/uploads/2021/01/Roberto-Venn_Fall-2020_AC-build-3.jpg
783
1200
John Lippi
John Lippi
2021-01-26 15:07:55
2021-01-27 09:48:06
Fall Class 2020 Acoustics – Alumni Visit Spring Class 2021 – Road Tech Lecture