Student Acoustics, Kretzmann Guitar Company & More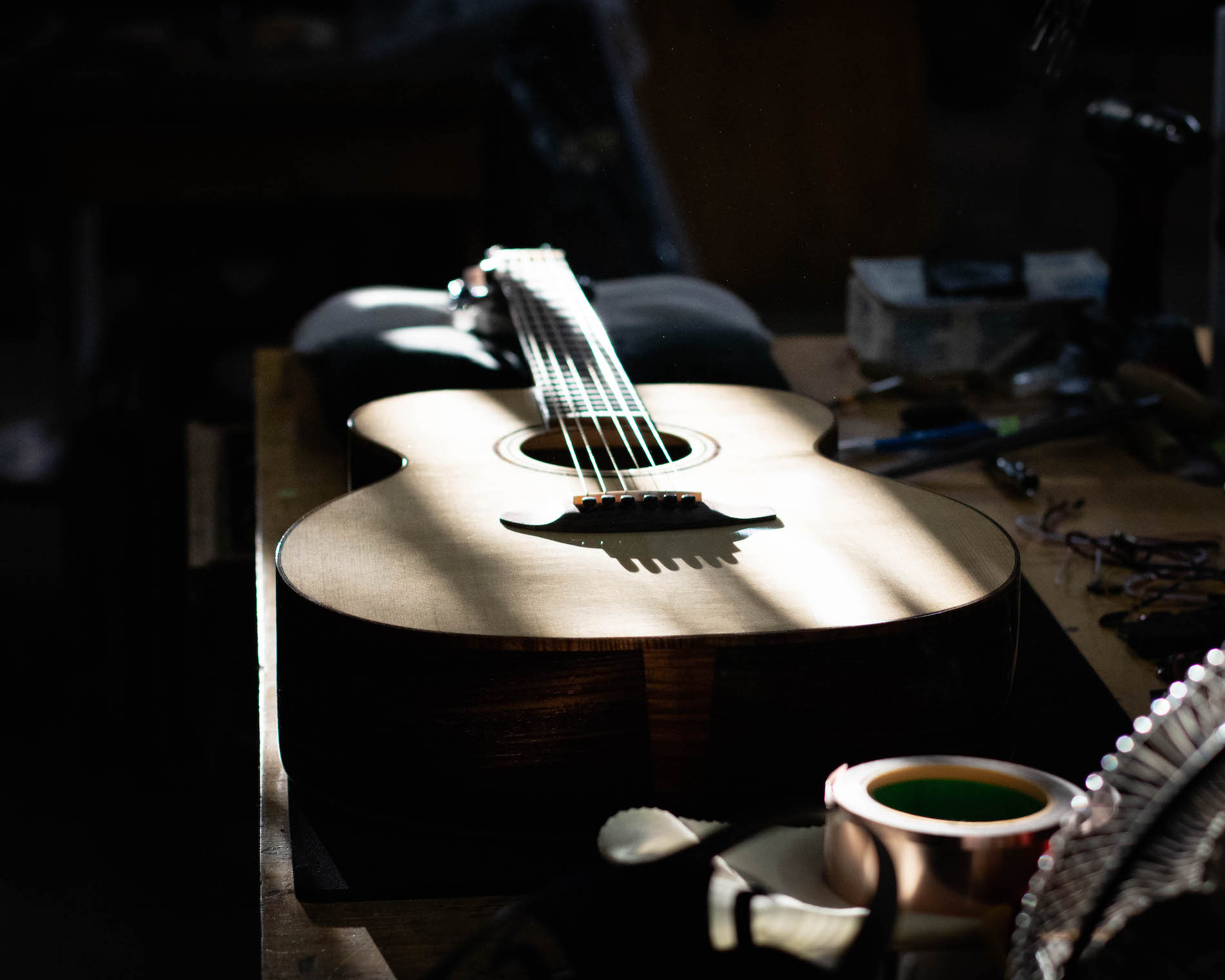 The student acoustics are in the final stages of the assembly process. After several months of hard work, there's nothing like stringing up an acoustic guitar an hearing that first chord ring… R-V student guitars are handmade and built from seasoned tone-woods over the course of 20 weeks. For more information check out the Guitar Making & Repair Course – details page.
A Special Hand-Made Guitar Exhibit and Graduation Ceremony
This year's Socially Distanced Graduation Ceremony begins (promptly) at 1pm on Friday 1/29/21. Because of COVID-19, this is a private event, but it will be accessible online through Zoom: Meeting ID: 946 651 4047 – Passcode: s21grads – Zoom Tutorial
Although this event will be different than usual, we still look forward to this graduation ceremony and honoring our Fall 2020 Class for the work they've accomplished. This class, like our Spring class, has been a story of community, collaboration, education and guitars. We made this happen as a team. Congratulations!
Graduate News: Kretzmann Guitar Company
"Hello R-V, I am pretty excited that I am now starting a new path for myself and a new iteration of Kretzmann Guitar Company. I moved my family out to a rural part of Wisconsin this last Spring and secured a new and permanent home for my guitar operations.
I am doing occasional custom builds and repairs out of my shop and am working with a manufacturer to produce an affordable line of solid body electric guitars that I am taking pre-orders for now and expecting delivery in Mid-March… Once I receive them, I am doing customizations, upgrades, etc at customer request. I am calling this my Tactical line because of the Military/Law Enforcement inspired styling and will be partnering soon with a Non-Profit that works with Veterans who uses music as therapy dealing with PTSD.
My time at R/V was one of the most rewarding experiences of my life and am a proud Alum. Thanks,
Martin Kretzmann, Spring Class of 2003″
Check out Martin's efforts. We wish him the best of luck!
Employment Opportunities
Recently we've shared employment opportunities through our graduate bulletin and on our social media pages for these companies:
Blackbird Guitars – San Francisco, CA.
Fender Musical Instruments – Corona, CA
Allparts Music – Houston, TX
Guitar Center – Scottsdale, AZ
Porter Barn Wood – Phoenix, AZ
Gibson Guitars – Nashville, TN
If you've got an employment opportunity and want us to share it through our grad network and on social media visit our Employer Job Opportunities page.
Browse our website for more info on our Spring 2021 classes and COVID-19 School Plan. Stay healthy and be safe.
Thanks – The Roberto-Venn Faculty
https://roberto-venn.com/wp-content/uploads/2021/01/Roberto-venn-student-work_Fall-2020-Acosutic-Stevo.jpg
1520
1900
John Lippi
John Lippi
2021-01-18 15:53:13
2021-01-18 15:53:13
Student Acoustics, Kretzmann Guitar Company & More