Upcoming Specialty Classes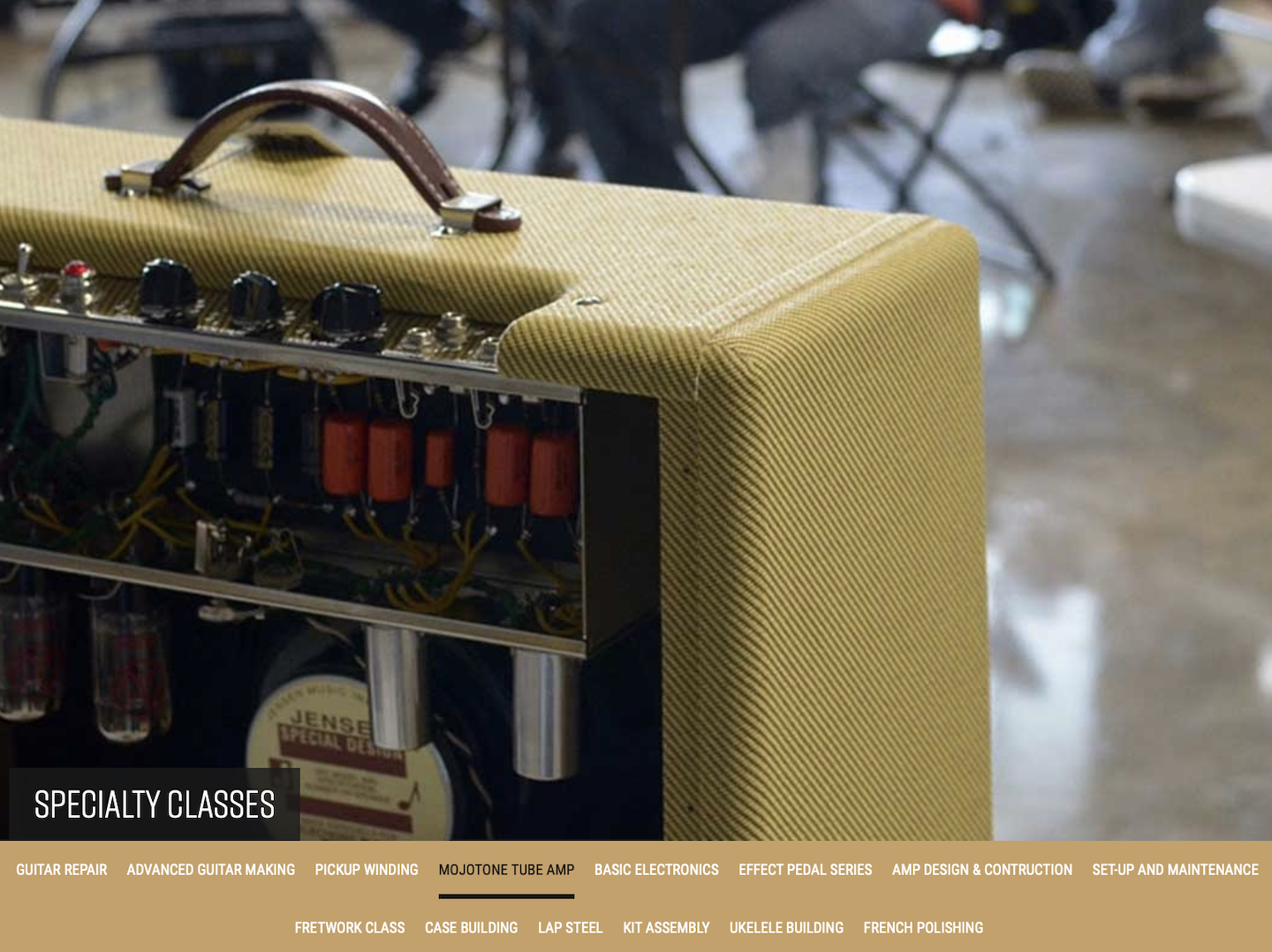 MOJOTONE TUBE AMP BUILD WORKSHOP
The Mojotone Tube Amp Build Workshop is an engaging and informative two-day full immersion experience where you will build a hand-wired 5E3 Tweed Style Deluxe. Hosted at the Roberto Venn School of Luthiery and lead by Mojotone's Production and Tech Manager Andy Johnson, this two-day program will take you through a classic "Tweed Style" amp build where you will learn soldering techniques, general amp circuit theory and an overview of what makes the "5E3" circuit a ubiquitous blueprint for countless amplifiers.
You will spend two days with our instructors who will guide you through the build, explain amp circuit concepts, and basic electronics. You will be soldering, assembling and genuinely getting your hands inside an amplifier. By the end of this two-day workshop, you will have hand wired your very own tube amp to enjoy for years to come and have a better understanding of what makes a tube amp so special. This is popular class, so claim your spot today.
LAP STEEL CONSTRUCTION COURSE
The Lap Steel Construction Course includes: lecture, demonstration and hands on experience in the construction of a lap steel guitar. Students will have the option of two models and will end up with a fully functioning lap steel. Students have the option of designing their own body shape or working from several pre-existing templates. All lap steel projects will be a 23 inch scale length. What's cool about this workshop is that it teaches you how to build something that can be done at home in a minimal shop environment.
GUITAR EFFECT PEDAL – SERIES
The Roberto-Venn Guitar Effect Pedal Series is journey into analog effect pedals taught over five weekends.  The student may elect to attend the entire series or individual weekend seminars.  Each weekend seminar consists of twenty hours of instruction including a lecture on Friday evenings followed by hands-on training on Saturday and Sunday.
An introductory seminar in basic electronics is the first in the series. All students take this seminar to acquire the electronics knowledge required for success in the following seminars.  The student will be given a list of tools to purchase for this class that will be used in all other pedal classes.
ADVANCED GUITAR MAKING
These three individual Advanced Guitar Making (10-week) courses will help to advance your building knowledge and woodworking skills. These courses are available to students that have graduated the 20 week guitar building program.
– The Archtop guitar building course students will build a Benedetto or Gibson style archtop guitar.
– The Resonator guitar building course students will build Dobro or National style resonator guitar.
– The neck-through building course students will build a neck-through guitar or bass guitar.
Employment Opportunities
Recently we've shared employment opportunities through our graduate bulletin and on our Facebook page for these companies:
– Mule Resophonic Guitars – Saginaw, Michigan
– Bourgeois Guitars – Lewiston, ME
– ESP Guitars – North Hollywood, CA
– Fender – Corona, CA
– Ripcord Guitars – Fountain Hills, AZ
– Silesia Guitars – Seattle, WA
– Fret Mill Music Co. – Roanoke, VA
– Guitar Center – Nationwide
If you have a job opening and want us to share it through our network visit our Employer Job Opportunities Page, share your info and we'll help you spread the word. Connecting qualified graduates with good employers helps us all. Look to us to help build your workforce.
Browse our website for more info on our 2021 classes and COVID-19 School Plan. Stay healthy and be safe.
Thanks – The Roberto-Venn Faculty
https://roberto-venn.com/wp-content/uploads/2021/04/Roberto-Venn_Specialty-Classes_Featured-Image-.png
1078
1440
John Lippi
John Lippi
2021-04-06 14:07:34
2021-04-06 14:40:23
Upcoming Specialty Classes